FEATURED SPEAKER
This year's guest speaker will be Dr. Carl V. Hill of the National Institutes of Health, who will present information on healthy aging, brain health, and Alzheimer's disease in the African American community.
ABOUT DR. SOLOMON CARTER FULLER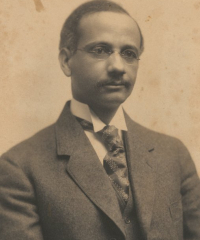 Dr. Solomon Carter Fuller (1872-1953) was the first African American psychiatrist and a pioneer in Alzheimer's disease research. He played a key role in the development of psychiatry in the 1900s. Fuller worked closely with Dr. Alois Alzheimer, whose pioneering brain research resulted in the disease being named after him.
Fuller was born in Monrovia, Liberia, in 1872, the son of Americo-Liberians and grandson of former Virginia slaves who bought their freedom and later emigrated to Liberia to help establish a settlement of African Americans. He moved to the United States in 1889 to attend college, earning an undergraduate degree from Livingstone College in Salisbury, North Carolina, and a medical degree from the Boston University School of Medicine. For much of his professional career, Fuller worked concurrently as a pathologist at Westborough State Hospital in Westborough, Massachusetts, a faculty member at the Boston University School of Medicine, and a psychiatrist in private practice. In 1904, Fuller traveled to Munich, Germany, one of five foreign doctors chosen to work with psychiatrist Dr. Alois Alzheimer at the Royal Psychiatric Hospital. During his year of study there, Fuller gained interest in neuropathology and the disease that would eventually be known as Alzheimer's disease. Upon returning to the United States, Fuller published some of the first papers in English on "presenile dementia," which would later be referred to as Alzheimer's disease.
Location
Wyndham Garden Hotel
2969 Cahill Main
Fitchburg WI, 53711